All About Medcare Products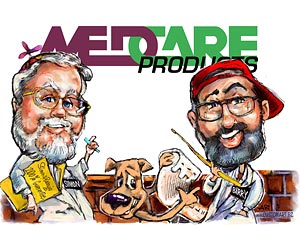 So, you clicked on the About Us button and you want to read about Medcare Products. First off we want to thank you for coming by our site, and for inquiring about our company. Medcare is owned by two guys with some very interesting backgrounds - Simon and Barry. Simon actually spent many years in the meat packing business until fate found him working in the warehouse of Medcare. He did such a good job at sweeping that the owners soon promoted him etc, etc, etc, until one day he finds himself the manager. Barry was a school teacher, but not just any teacher. He was awarded teacher of the year at his school! But alas, he set his sights elsewhere and eventually he ended up at Medcare as a salesman for Simon. The original Medcare was a nursing home supply company, but the boys were tired of duking it out with Medicare, Medicaid and all sorts of other insurance companies. Opportunity came knocking dressed as a Veterinary clinic, and they set their sights on the veterinary market. The original owners of Medcare didn't see much future in the vet market– what do they know? And so Simon & Barry bought the company, becoming partners.
Many customers have commented on how similar we sound on the phone. Well first off we want to assure you that there really is a Simon and a Barry. But we do have one or two things in common. Our wives grew up together since childhood in Cleveland Heights. Simon and Barry had dorm rooms next to each other in college (Barry comes from Columbus and Simon from L.A.) and later when we got married lived in adjacent apartment buildings. Barry bought a house first, and then let us know when the house next door was available. So yes, not only are we in business together, but we are also next door neighbour. Our kids play together and occasionally we carpool to work. But otherwise we have nothing in common - as if we don't already have enough.
We have been at this for more than 14 years, and while each business presents it's own unique set of challenges, (Here's where you may want to have your hanky ready) we feel very fortunate to be in the veterinary supply line. There is something very special about the care of animals and those people who are attracted to that way of life. The sincerity, caring and well for lack of a better word HUMANITY of our customers comes through loud and clear - and we are very thankful for it. We built our business on great prices and wonderful service - but we couldn't have done it without a lot of help from Above and from all of you out there. Thank You! Email Simon or Barry at Medcare Products with your comments or suggestions. We would love to hear from you!